About: Board of Directors
KWMR is owned and operated by KWMR, a non-profit, charitable corporation organized pursuant to Section 501(c)3 of the IRS code. As with any corporation, KWMR has a board of directors. It is the board that sets the direction and tone of the station, forms committees to address things like general policy and emergency preparedness and fundraising. The board is made up of people from the local community, usually folks of long residency with strong ties to the area. They often serve or have served on other boards of directors as well.
---
Board DEI Statement
KWMR's Board adopted a Diversity, Equity, and Inclusion statement in Summer, 2021. You can read it here: KWMR Equity Statement.
---
Youth Board Representative
KWMR is seeking a Youth Board Representative. Please apply HERE.
---
Current Board of Directors
Kristen McDonald, President, Inverness Park
Augusto "Gus" Conde, Vice President, Inverness Park
Miguel Kuntz, Treasurer, Inverness
Aaron Ely, Secretary, Point Reyes Station
Sharron Drake, Inverness Park
Allison Faust, Inverness
Ginny Felch, Stinson Beach
Robin Livingston, Point Reyes Station
Kevin Meade, San Geronimo Valley
Cathy Richards, Inverness
Danny Vitali, Point Reyes Station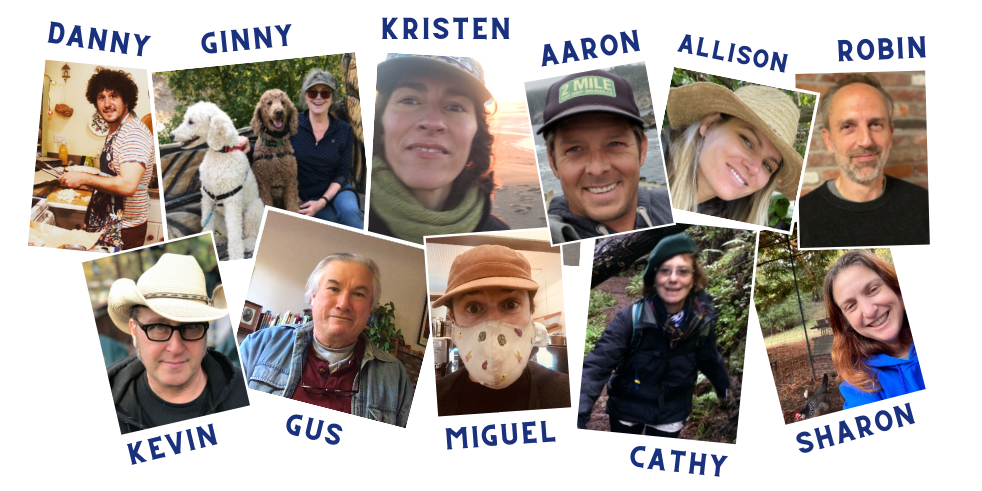 ---
MEETING POLICIES
KWMR complies with the requirements of the Corporation for Public Broadcasting that its meetings of the membership, the Board of Directors and the Advisory Committee are open to the public. Certain portions of the meetings may be closed to consider confidential business, legal and personnel matters and otherwise as permitted by law. All meetings are announced on KWMR's website.
BOARD MEETINGS
When: Board meetings are held on the 3rd Wednesday of each month, at 6 PM. Board meetings are not held in August or December.
Where: Due to the COVID-19 pandemic, starting in April 2020, KWMR now holds meetings on Zoom. In pre-pandemic times, we met at the Public Safety Building and Fire House, Point Reyes Station, 4th and B Streets.
How to join: If you're interested in getting attendee credentials for the Zoom meetings, please email [email protected] or call 415-663-8068, Ext 104.
Notifications: If you'd like us to email you at least seven days before each meeting with the specific dates, times and locations, please email [email protected] to be put on the notification list. Notice is communicated by email to any individuals who have specifically requested to be notified; if a person does not have an email address, the notice will be made by letter, fax or phone. KWMR makes on-air announcements quarterly, using the same text as above.
ANNUAL MEETING
KWMR's Annual Meeting is held on the 3rd Wednesday of November at 5:30 pm. During the pandemic, it will be on Zoom. This will be immediately followed by a joint meeting of the KWMR Board and KWMR Community Advisory Board at 6 pm.
PROGRAMMING COMMITTEE MEETINGS
Programming Committee Meetings are suspended during the COVID-19 pandemic. In pre-pandemic times, they were held at 5PM on the 3rd Wednesday of each month. at the Public Safety Building and Fire House, Point Reyes Station, 4th and B Streets.
---
COMMUNITY ADVISORY BOARD
KWMR's Community Advisory Board (CAB) seeks to assist KWMR in fulfilling its goal to inform, inspire, educate and entertain its viewers by presenting distinctive programming for diverse audiences throughout West Marin, the region and the nation. CAB members monitor and evaluate public radio programs and content and give voice to underserved segments of the West Marin community.
Current Community Advisory Board Members
Mark Buell, Bolinas
George Clyde, Marshall
Dave Cort, Lagunitas
Chris Desser, Marshall
John Gouldthorpe, Point Reyes Station
Susan Hayes, Inverness Park
Jack Kramer, Point Reyes Station
Ted Lyman, Point Reyes Station
Alexander McQuilkin, Woodacre
Dan Morse, Inverness
Harriet Moss, Sausalito
Muriel Murch, Bolinas
Carla Ruff, Inverness/San Francisco
---
FOUNDERS
The KWMR Founding Board 1995 – 1999
Donna Sheehan – Founder
James Stark – Founder
John Gouldthorpe
Muriel Murch
Richard Dillman
Charlie Morgan
Kate Munger
Howie Hammerman
Kay Clements
Claire Peaslee
Sheila O'Donnell
---