Tuesday October 3, 2023
From the messy desk of Amanda Eichstaedt…


Somethings old, and some things new…
We learned from Emmanuel that he will be finishing up a great run of "The French Connection" (Wednesday at 2 pm weekly) at the end of October. Emmanuel has produced this program on KWMR for the past five years. Never fear though, since Emmanuel will continue to host and produce "The French Touch" every Friday from 5pm – 5pm on the KWMR airwaves, and sometimes there is even a French host on "Happy Hour"…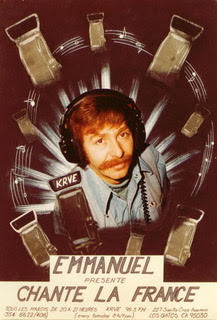 At KWMR some folks become DJs for the very first time, and others, like Emmanuel, bring extensive broadcast experience with them to the KWMR airwaves. He recently shared with us a mini-poster from when he hosted in Los Gatos in 1974. When he started the program he had 8 French records, but listeners came the rescue with more great tunes. After only six months of doing this program, Emmanuel "graduated" and started on KED in May of 1975 with a show called "Radio á la Carte" for ten years. Emmanuel has also been producing French music content on KSVY in Sonoma. He is a guy that keeps himself busy! Much of this content (when he is not on the road) is produced from Studio LL (Lower Livingroom). We thank Emmanuel for his dedication to great French music and for all the wonderful shows on KWMR.
Jeff Wilkinson is BACK! He should be parked in the host seat on Monday, October 9 to host "Cruisin." It took some rehabilitation after his illness to get him back in the game. He looks great, and should be sounding even better through your speakers next Monday at 2PM on KWMR.
KWMR recently had our mini-split heater/cooler maintenance performed by our pals at Aero Heating and Cooling. John showed up and had a great time checking out everything at KWMR. He said that he had a friend who did a show on KWMR. It's Joe Blumenthal! He loves "A Cuppa Jo." Joe is on every other week with 30 minutes of the best and most uplifting news you will hear anywhere. He is on next Monday at 11:30 AM. Check it out! John has been maintaining Mo and Joe's heating system for years, and they have become friends.
Word on the street is that Joe Blumenthal is having an art show at Tom Biagini Gallery in Inverness, CA that opens on Sunday, October 8th. Joe is donating 10% of the proceeds of art sales to KWMR. The will be open every weekend through October. Thank you, Joe Blumenthal (and Mo, too – we know she is involved).
And for some new content on KWMR…
Have you tuned in to "Youth DJ" on alternating Wednesdays to hear the "Chicken Strips" crew? These kids are off the rails in the best possible way with antics, samples of audio, great tunes, and enough enthusiasm to move mountains! They will be on next on October 11 at 4 PM. Be sure to check it out.
Another new show hitting the KWMR airwaves is "Let's Go" every other Thursday, following on the heels of "Morning Mike." This show is hosted by Will Bartlett and Astrid Reichenbach, and is fun, engaging, and thought provoking.
We wanted to let folks know that Grey Shepard ("Between Rock & a Jazz Place") has been down with some cancer that is affecting his ability to vocalize right now. It was caught early and he is completing his treatments and ready to heal up and be well. In the meantime, even while down for the count he has helped Neil Dickman, who is recovering from sepsis, produced shows from home. I interviewed Neil recently about his experience, and you can hear the show HERE. While he is out, Grey will have some all-star substitutes, including Peter Asmus ("With Eyes Open"), and Ian McMurray (Professor Kozmos BFF). Feel free to send along any messages for Grey or Neil, and I will forward them along. Email Amanda HERE.
KWMR's Pledge Drive is coming up soon! Want to get a jump on the game and throw down your Challenge Grants to impress and motivate others to support community radio? You can do so HERE. Challenges are in increments of $100 and help the programs you love raise the funds to assist KWMR in making our overall goal! Programmers love a boost and to know that there programs are appreciated. So much time goes into the shows on KWMR! Would you like a "lawn sign" to put out to show how much you support KWMR? Come on down or let us know, and we will get one for you to post proudly in your yard. Email HERE.
Thank you for reading and supporting KWMR.
Pledge early and often…
Amanda Eichstaedt
Station Manager/Executive Director