"Tallest Man In the Room"
Tuesday February 28, 2023
From the messy desk of Amanda Eichstaedt…


Who Has a Face for Radio?
Rob Devincenzi, Publisher and President of the Marin Independent Journal did some radio in college and joked that he had a face for radio at the Giving Marin Awards Ceremony held at the Marin Country Club in Novato on Thursday, March 2nd. It was a lovely event held by Giving Marin to award fourteen nonprofits grants from their 2022 open application process.

KWMR was on of the fourteen organizations awarded $5000. We were in very good company, as each of the Sponsors and Partners took turns introducing the awardees. Incredible work being done all over Marin county, from finding lost persons, furnishing homes for foster children, connecting veterans with horses, providing books to kids, taking kids on bike adventures, running a State Park, making art with children with autism, working to help girls succeed, theatre, a sign language learning app, taking people sailing, a community center, and helping new mothers and families after they give birth. Wow! And a radio station, too!

  

Amanda Eichstaedt and Alyssa Tanner for KWMR, Rob Devincenzi in the background.

Each organization got to speak after receiving their award. It was really an honor to hear about the amazing work being done by these groups. Giving Marin also sponsors advertisements for nonprofit organizations through their Ad Sponsorship Program. I read the IJ every morning before tackling some fun puzzles, and had always wanted to submit ads for KWMR. We began to do so last year and have run several KWMR ads  (maybe you have seen them). The idea is to get more folks to know about the radio station and tune in and check out the programming. Every little bit helps.

At the event Rob Devincenzi introduced the many Partners and Sponsors. In a room full of different sized people, some tall, some not as tall, a theme emerged about who was the tallest, the shortest, etc. And many of the awardees commented on their own height. It became sort of a theme. Although my favorite chuckle was from a woman who started a nonprofit to help girls with her own money, and now with her ex-husband's money. It was fun to meet Rob and many of the others involved with Giving Marin. They clearly enjoy this philanthropic part of their work. Everyone was very jazzed. A few people "Got something in their eye." It was moving.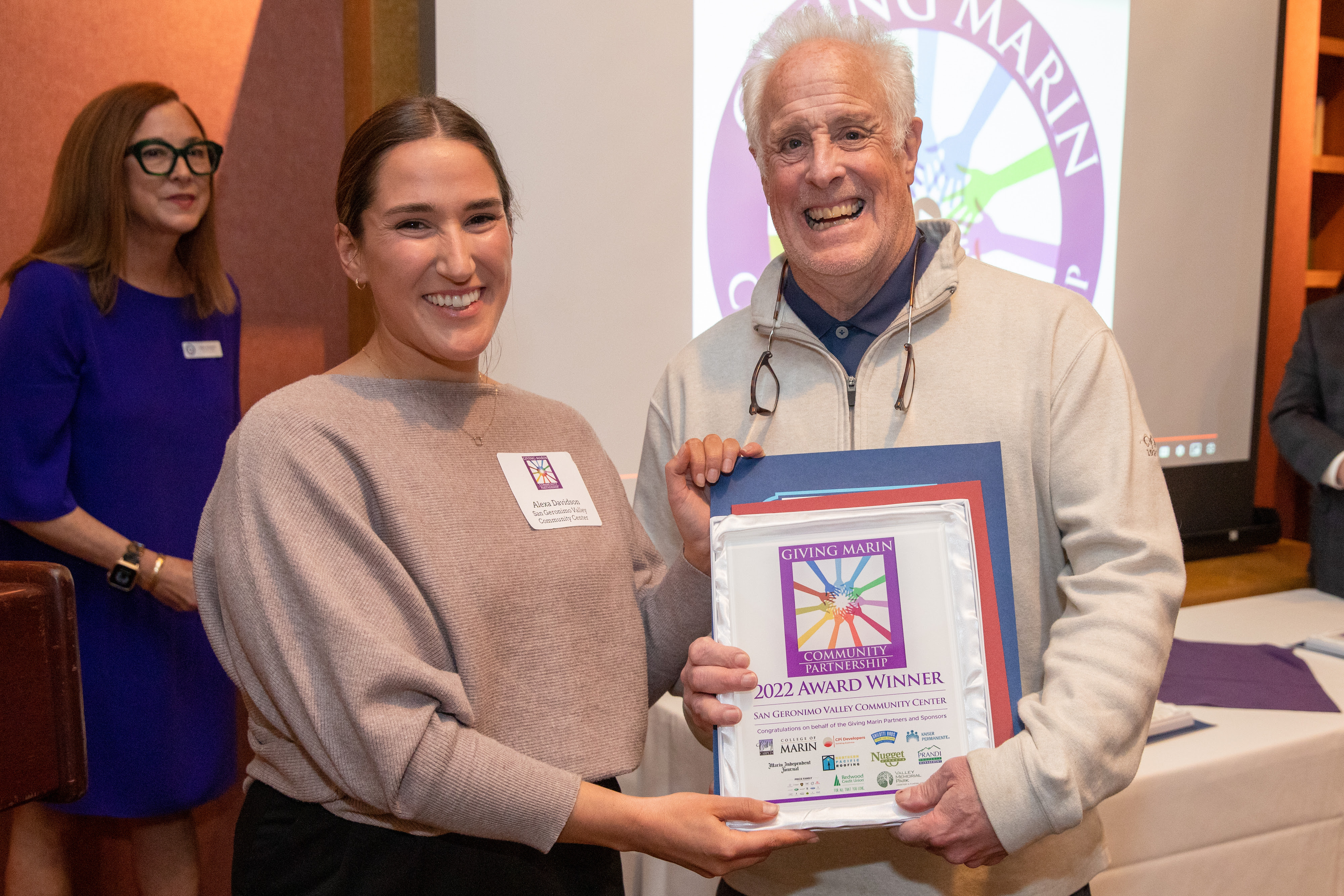 Alexa Davidson and Dave Cort from San Geronimo Valley Community Center. Sara Moseley in the background.

We saw our colleagues from the San Geronimo Valley Community Center. They also applied for, and received, an award and grant from Giving Marin. We were excited to hear the news that Alexa Davidson will be stepping into the shoes of Dave Cort as Executive Director of the San Geronimo Valley Community Center starting on July 1st. Dave will transition into a Community Ambassador role with the center, where he has been the Executive Director for 32 years! I will be chatting with Alexa and Dave soon on Swimming Upstream. 

  

The whole crew with Rob Devincenzi on the left and Sara Mosely on the right. 

While we were there, standing and watching the proceedings, my phone started buzzing in my pocket. Yep, that was when the power went out all over West Marin for a few hours. After some investigating, it was determined by KWMR staff that the generator would not be started. There was no emergency associated with the outage. Just power out. And when the power came back on, nobody was at KWMR. I stopped at the station on my way back from Novato around 7:30 PM and turned on the console. Power goes out for many reasons, including trees down, issues with PGE infrastructure, vehicles colliding with poles, etc. Remember the good old days when people would just light a candle and read a book? I know not everyone has a cell phone, or access to cell reception at all times, but you generally know where you can find it if you do have a phone (and the power is out). PGE has an App for IOS or Android for reporting outages and checking on outages. You can download the App for IOS or Android in your App Store, and it is called PG&E Report it.

Amanda Eichstaedt 
Station Manager and Executive Director