Giving Tuesday (Nov 29) + KWMR Radio
Hi, Mia here from KWMR West Marin Community Radio.
In this time of (un-named) massive companies homogenizing every industry within reach, and algorithm-izing every little bit of audio around…at KWMR West Marin Community Radio, we're still plucking along as an independent, community-run station…sticking to our homegrown, organic roots to help us keep growing in the right direction.
With Black Friday and Cyber Monday looming…Giving Tuesday offers an alternative to all the massiveness going on out there. It feels really good to donate to small, dedicated, local radio.
Please join KWMR on Giving Tuesday, November 29th.
Below are 5 easy ways to give.
Thank you, community!
Mia Johnson
Digital Communication Director
KWMR West Marin Community Radio
5 Easy Ways to Support KWMR on "Giving Tuesday," Nov 29:
1) Make a one-time donation here.
2) Join the monthly Calendar Club here.
3) Donate a vehicle here.
4) Sign up for our weekly "Roundup" newsletter here.
5) Follow KWMR on social media, here ⬇⬇⬇
What is 'GivingTuesday'?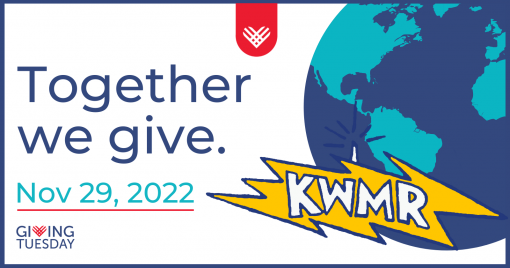 From GivingTuesday's website… "Giving Tuesday is a Movement that Unleashes the Power of Radical Generosity Around the World. GivingTuesday reimagines a world built upon shared humanity and generosity. Our global network collaborates year-round to inspire generosity around the world, with a common mission to build a world where generosity is part of everyday life. Whether it's making someone smile, helping a neighbor or stranger out, showing up for an issue or people we care about, or giving some of what we have to those who need our help, every act of generosity counts, and everyone has something to give."
From all KWMR's staff, volunteer programmers, and fellow listeners, THANK YOU!