From Amanda's Messy Desk: "My Kingdom for a Corner Cabinet"
Tuesday August 23rd 2022
From the messy desk of Amanda Eichstaedt…


What I wouldn't give….
Alyssa Tanner, KWMR's Development Director had a good idea. Tell the readers of the Round Up what we want. We don't want for much around here. We are doing pretty well and the place looks darn good, if you ask me. We even have our own vacuum now, so no more shlepping mine from home, and it gets used often by staff to keep the office and studios spiffy.
But first, I was schooled twice regarding my column last week. KWMR listener and Jenner resident Lena informs me that the cows in the photo are actually Belted Galloways, not Dutch Belteds. Apparently Dutch Belteds have shorter smoother hair, and are dairy cattle, and the Belted Galloways are beef cattle and have longer coarser hair. Learn a few things every day! But spelling Moliere's name wrong is not ok. Thank you Emmanuel. The French need to watch out for one another. And by the way, the play is coming together nicely. Such talent in our community. I am thoroughly enjoying my tiny part, and am in awe of the stars of the show.
Belted Galloway cattle at the preserve. photo: Amanda Eichstaedt
What was I thinking? I mention the giant scissors without telling you why. Well, Here's the deal. We have giant scissors, and if you need to borrow them for your ribbon cutting ceremony, we are happy to lend them. Just let us know! I would not recommend them for crafting or haircuts. And we still have the community pencil sharpener on the front porch, so come on down with those pencils.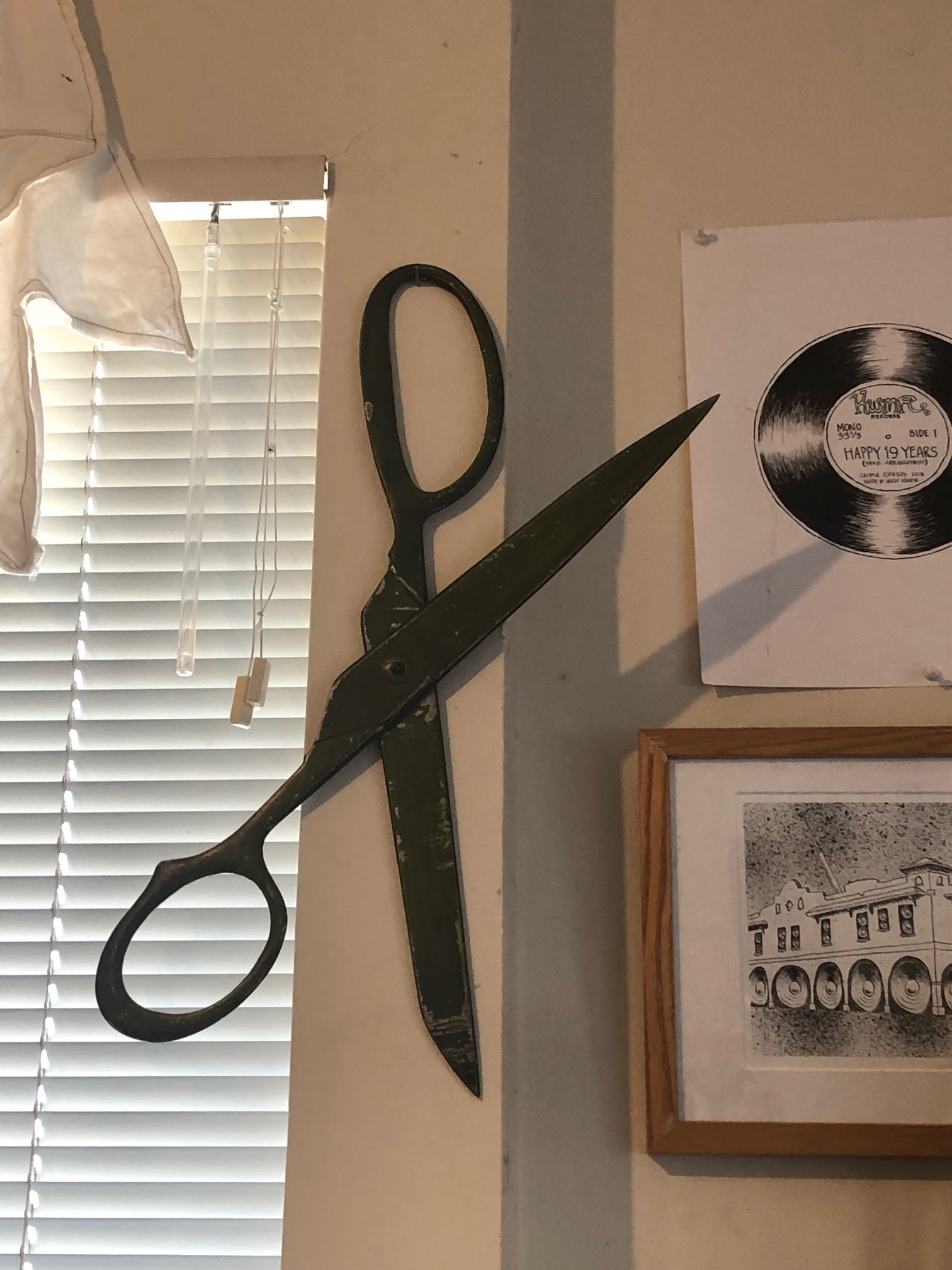 Giant Scissors. photo: Amanda Eichstaedt
Ok, here is what KWMR would like to have donated. We are hoping to score some kitchen cabinets (are you remodeling soon?) to put into our Studio B above the counter to replace the shelves. Studio B serves as the KWMR Emergency Operations Center, our kitchen, and our recording studio. Below is what it looks like now, and with some cabinets it would be so much tidier. Let us know if you can help us out. We don't need many, maybe two cabinets, or a corner cabinet and one side cabinet to go with it. It's a tiny little room.
Our little kitchen could use some consolidating. photo: Amanda Eichstaedt
And KWMR Board service isn't just for kids! Might you be interested in throwing your hat into the ring and performing some radio station governance? The KWMR Board wants to hear from you! Ask any board member, our meetings do not run long.
Youth Board Rep?
And….if you are a youth, or you know of a youth that might be interested in serving as a KWMR Youth Board Representative, please apply now for the coming school year! We had such a delightful experience with our very first Youth Board Reps – Elena Rodoni and Sophia Buckholtz, and we look forward to new reps in the fall! Application is HERE.
Thank you for reading our newsletter and for your support of KWMR!
Amanda Eichstaedt
KWMR Station Manager and Executive Director
p.s. "The Miser" is coming along beautifully. Such talent, all the way around! Hope you can make it. HERE is the info. Moliere's tale of greed, translated and adapted by Geoff Holye, produced by Sharron Drake, and directed by David Abrams.