From the messy desk of Amanda Eichstaedt, April 19, 2022


Stuff Coming Up!
On Monday I interviewed Dr. Matt Willis from The Marin County Department of Health and Human Services on Epicenter. He said the same thing that other health professionals are saying. The gist of what he said is that we will be living with COVID for the foreseeable future and that we are in a "choose your own adventure" time period. Vaccinations and boosters are available and there are some medicines that doctors can prescribe if a person meets the criteria, and has COVID, that can help minimize damage. We have masks, we have distancing, and tests, so people can decide what they want to do.
My take away from where we are now is that we have moved from a fear-based response in COVID information, into a more thoughtful, data-driven planning stage. It's less of an adrenal response (full body) and more of a cerebral, planning time. While the threat of illness from COVID is still there, there are other risky things that people do every day. We climb ladders in the rain, drive fast on multi-lane freeways, and operate heavy equipment. Or not. It's our choice. 
You will still see me masking up in stores, but less so in other settings. I'll test periodically, and keep myself as healthy as possible. In case anything else takes me down, I will be more likely to bounce back faster. Been there, done that.
And I have decided that there is no "new normal." The world, and its inhabitants are anything but normal. And I wasn't so sure that I would get excited about an event again – ever. When we all went into pandemic lockdown, I was secretly so relieved to not have to worry about events (not secret any more). I was pretty burned out.
But I am pleased to say that I am very excited about an event happening in May. KWMR Presents Sharon Robinson in concert at the Dance Palace on Saturday, May 21st at 7 PM. Seated concert only (no streaming), proof of vaccination and masking required. Heidrun Meadery will be pouring. This is a fundraiser for KWMR.
Sharon Robinson        photo: courtesy of the artist
KWMR will be turning 23 years in May (May 2nd to be exact), when the FM airwaves came alive with the voices of your friends and neighbors. Our pals at the Dance Palace are turning 50! They have some very fun things planned the weekend before the KWMR concert, and we encourage you to check it out!
And….Western Weekend is going to happen this year. Boy Howdy, KWMR is ready and we will be doing the live broadcast from the grandstand, and providing audio from 9 AM to 3 PM on Sunday, June 5th. So get your radios ready, and bring them to the parade! If you have been considering having a float you can register HERE, and the Point Reyes Station Village Association is hosting the parade info this year. It truly takes a village.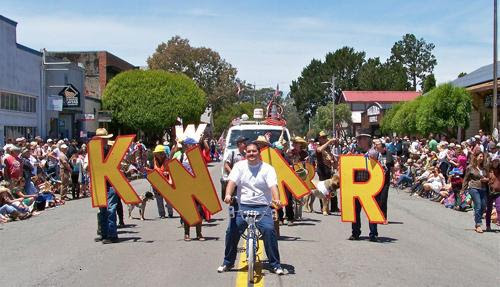 KWMR float in Western Weekend Parade many moons ago!
Another thing you might want to check out. The first is this month. On April 24 Earth 2050 is happening in Mill Valley. Tune in to KWMR this Thursday at 4 PM for Vickisa's "Coastal Airwaves" to learn all about it.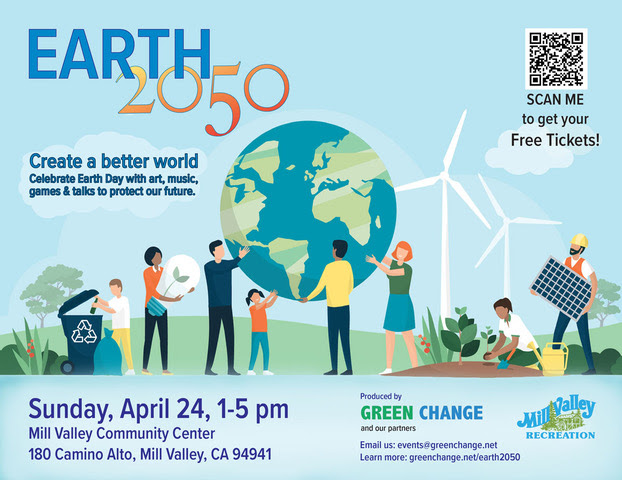 And how about this late season rain! I love that it is making it easier to pull out all those weeds. Thank you Mother Nature!
Thank you for reading our newsletter and for your support of KWMR!
Amanda Eichstaedt
KWMR Station Manager and Executive Director