✏️ Amanda's Blog: "Waiting, watching, listening" (March 15, 2022)
Tuesday March 15, 2022
From the messy desk of Amanda Eichstaedt…
Wait for it…
I was thinking about how exciting it is when we he hear that it might rain. The lack of localized flooding is about the only up-side to the drought. Since I live in a flood zone and do a lot of weeding and mowing, I can appreciate a dry year. I know how important the winter rains are in California, and it is stressful to think about the coming fire season.

Ahhh, rain!   photo: Courtesy of Pexels.
Witnessing epic climate events all over the world caused by increasing global temperatures is unnerving. Some people think of moving to another place, but when you dig in, it is inescapable. We live in a beautiful place and accept the risks that go along with that.
Operating a radio station in this beautiful place is a blessing. We are very fortunate to have an FM radio station in our midst, and my hat goes off to those that rallied to get KWMR started 23 years ago. Scrappy and quirky, and full of community voices. The station still wears that mantle, and we have learned over the years just how important having a radio station is when things are not so great.
I'm thinking back to reporting on the Woodward Fire, while dealing with the height of the global pandemic in 2020. That was stressful. And in our scrappy way, KWMR figured out how to get the information to the listeners, using technology to bring the daily briefings via the airwaves, and updating messaging as conditions changed, so that listeners could check in at the top and bottom of each hour to see what was going on.
We work hard here at KWMR to be ready to step up to bring listeners important emergency information. I am thankful every day that goes by where it is not necessary to broadcast emergency information. The times when we can relax a bit and enjoy the wide range of music played on KWMR, and listen to thoughtful conversations about the arts, culture, and current events.
Right now KWMR is conducting our Spring Pledge Drive. Programmers are all rallying to bring in operational funding via the Crowdfunding Pages and while doing their shows on the radio. We even got a bit of rain this week, which is great for the reservoirs and our gardens. We have noticed that since 2020 and 2021 seem like they were one year, and our Fall Drive last October seems like it was 15 minutes ago, that time has warped beyond "Daylight Saving." But we hope that you can contribute.
Each week about 1300 people open this Round Up newsletter. If each of you pledged $15 right now, we would be within spitting distance of our $50,000 goal. The funds raised during the pledge drive are used to keep the day to day operations humming at KWMR. It helps to pay the utilities, phone bill, insurance, rent, and payroll. All so that we can be ready and able to bring you the information that you really need during times that are not so great. Many hands do make for light work.
Thank you to all of the donors who have pledged so far, and to our monthly donors in the Calendar Club, many of whom have made additional donations during the Pledge Drive.
When I say "Wait for it…" I'm speaking for all of us who do our jobs here at KWMR. We love what we do. We have amazing volunteer programmers, a hard working Board of Directors, and some of the most awesome listeners on earth. Conditions are bound to change, and we are always waiting for that, and we will be ready to serve when that happens.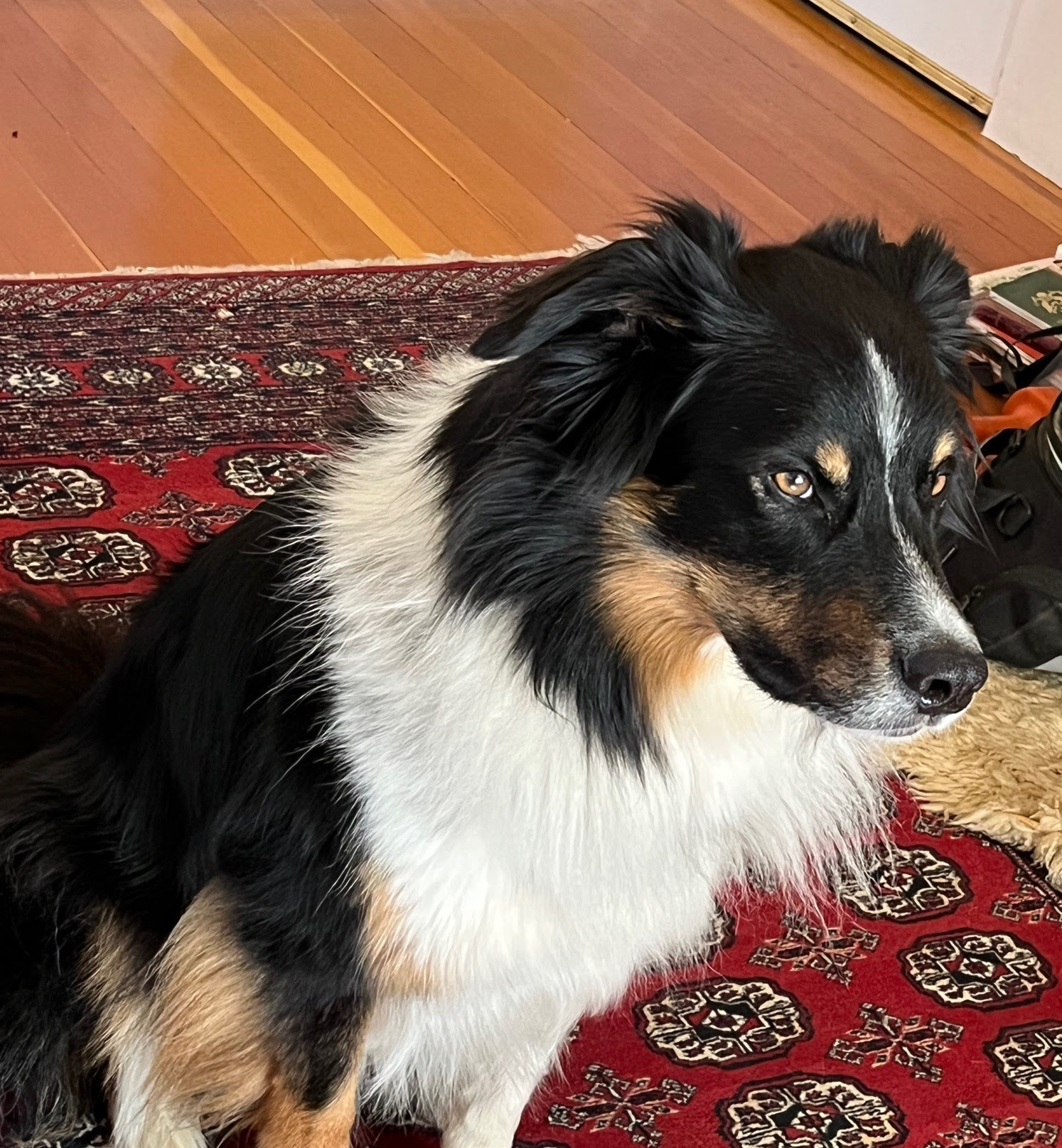 Waylon waiting.     photo: Ken Eichstaedt
Thank you for reading our newsletter and for your support of KWMR!
Amanda Eichstaedt
KWMR Station Manager and Executive Director